Developed
specifically
for
sellers of used and new car parts
CARRO.Business - an accounting tool for auto dismantling businesses
It is perfect both for major companies and small auto dismantlers
* trial period of up to 100 parts
It is used by
1,745 companies
We have implemented
872 offers
We can add new system features based on your suggestions, completely free of charge.
System capabilities
Auto-uploading to the platforms and social networks
• Get rid of the necessity to enter items by hand on each marketplace and keep them up to date. CARRO.Business will do it for you.
• Run your Instagram and Facebook social media accounts without any additional time input. Post goods on social networks right from the system.
• Upload your goods to our aggregator websites CARRO.by, CARRO.su, CARROkz.com, CARRO.in.ua, and CARRO.kg for free.
Accounting and cost recovery of car assembly sets
Easy management and payback calculation of car assembly sets. The system will show you the profit amount from each car assembly set and the quantity of goods left in the warehouse from that set.
Flexible system of sales processing
• We will help you choose and register an online cash register. We can integrate your online cash register in CARRO.Business.
• Conduct flexible sales of goods: sale on credit, combined deposit of funds from the sale in cash and non-cash and in different currencies.
Revenue and expense accounting
• Keep track of all your expenses and revenues. Enter the expenses for the warehouse maintenance, employees' salaries, and payment for advertising platforms.
• Track the efficiency of any advertising platform based on charts showing expenses and revenues from sales of goods.
Transfers between warehouses and notification of customers about the arrival of goods
• Create orders for transferring a batch of goods to different warehouses and points. Auto-notify your employees when a transfer request is created and control the transfer process right in CARRO.Business.
• Notify customers via text message about the arrival of the goods at the point of delivery.
Customer accounting
Collect your customer base automatically when selling products. View each customer's purchase history. Create automatic mass mailings for the customer base, make promotional offers and notify customers about discounts.
Employee management
• Take your team to CARRO Business! Assign roles, create accounts for all your employees without any limits.
• Estimate wages of your employees based on the number of sales/parts entered.
• Monitor employee activity. CARRO.Business will provide you with a full report on each employee's activities for the required period.
• Socialize and create team chats either in the system or in the mobile app. Assign tasks to employees and supervise the process of their execution.
Targeted storage and stock-taking of goods
• With targeted storage, you'll know exactly where your goods are. Targeted storage system will allow you not to depend on employees; new employees will be able to navigate through the warehouse right away.
• We will help you choose the right model of printer for label printing, connect it to the system, and teach how to use it.
• Take inventory of the warehouse in 2 clicks. CARRO.Business will make this process a lot easier, so you will know exactly what is going on in your warehouses.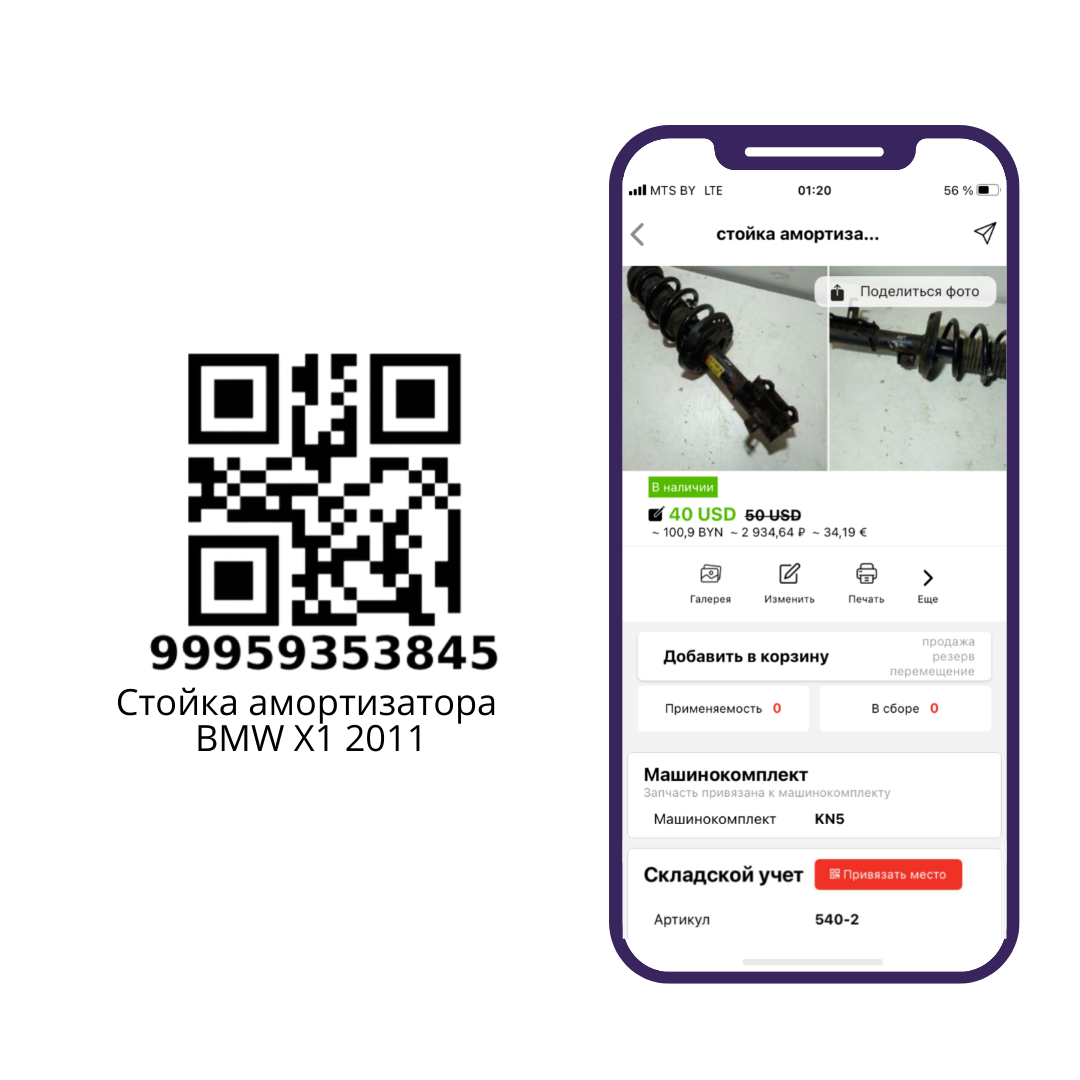 An online store with bank card payments
• Save money on creating your online store at third-party web studios. With CARRO.Business, you get a personal online store, combining advanced technology and an easy-to-use design. An online store is integrated into the accounting system, so the products that you have entered or edited in the database will be automatically updated on the website.
• Acceptance of payments by bank cards. Receive payments safely and legally.
• Optimization makes up for our everything! You will get a super fast and secure website. We focus on SEO optimization for Google to obtain the maximum number of customers from search.
Security and customer support
• Cutting-edge technology. When you sign up for CARRO.Business, you get only the most recent updated solutions.
• Security. All data is securely protected by the latest encryption techniques. Our backup system will help you restore your database for any time interval.
• 24/7 support. We are always available to support companies around the clock. We will guide you and help you deal with any issue.
We will implement the system
in a few hours
and teach you how to use it
• We will train your employees
• Transfer your data for free
• Help you choose the right equipment and set it up
AUTO DISMANTLING ACCOUNTING: CARRO.BUSINESS GUARANTEES MAXIMUM SPEED AND CAPABILITIES!
If you run a business dealing with high volumes of auto spare parts, we can help you find the most reliable and easy-to-use accounting software. CARRO.Business is a state-of-the-art accounting tool for auto dismantlers, aimed at closing all the major 'pains' of the owners and employees.
Differences between CARRO.Business and maintaining record in Excel
CARRO.Business is a high-precision tool for a specific type of activity, aimed at development and improvement, increasing competitiveness and expanding functionality, and thus attracting new customers. You get a single tool where you can both keep a record of your parts and list them on all the popular portals.
Main software features
Are still considering whether you need the software for auto dismantling business? These are some of its advantages and differences from 'universal' products:
Time saving. It will take you 1-2 seconds to add car assembly sets and spare parts, instead of spending several minutes on each position. Only one click and the process becomes less time-consuming.
Preventing theft by employees and control of auto parts.
Advanced analytics with sales charts, payback calculation options, and employee activity analysis.
The ability to work in teams where each employee has a different role and can create an account.
Automatic uploading to websites according to user-defined parameters. Just add the spare part in the software, and it will appear on other websites automatically.
Creating your very own cutting-edge and user-friendly website based on CARRO.
CARRO.Business disassembly software is unparalleled. We are constantly improving the functionality and extending software capabilities.